On Site During the Festival
You can pick a programme with a site map for a small donation when you arrive. Look for the locations of Info Point — where you'll find our up-to-date programme boards — and the First Aid tent, open 24 hours throughout the Festival.
Music and Noise
Please see the programme boards at Info Point, or outside individual venues for the times of a particular performer.
The event is neither a silent retreat nor an all-night party, so we ask you to consider our position on both extremes.  We are committed to keeping all noise levels at safe and enjoyable levels, and routinely monitor levels around the site.
Be considerate of fellow campers in the camping areas between 11pm and 7am.
No unauthorized sound systems or amplifiers to be brought on site. All amplified music must be kept within our license restrictions (please ask the Head Steward if you are unsure of these) and anyone breaking these may be shut down.
There are late-night cafés and music venues that operate within our license.   If you'd like to stay up all night and chat around a fire please do, but only around one of our public fire pits. We ask that you are aware that sound travels on the site and people are likely to be sleeping nearby.
Whilst we are asking participants to be considerate about making noise outside of certain time-frames, within those time-frames there will be amplified music that may not suit your tastes, either in style, volume or times of day.
We expect our amplified music venues to play music up to the higher noise limit of our Licence restrictions at any points during the event between:      

9am-11pm on Wednesday, Thursday, Friday & Sunday
9am-12pm, Saturday

If you feel that these times do not suit your preferences, you may wish to reconsider booking tickets or bring ear plugs.
We ask people to be considerate about drumming at all times, but especially after dusk. No drumming at all after the end of amplified music (see above) until at least 10am.
 
Communal Fires
Only open fires, braziers, and BBQs approved by Buddhafield are allowed.
There are a small number of prepared communal fire pits onsite with firewood provided a safe distance away. Please don't strip wood from the hedges or trees.
Parents / caregivers are responsible for their child(ren) around all fires.
Lost Children
We have a dedicated Lost and Found Children Team (location on the site map in your programme). If you have a child / children with you at the event, please make them aware of the Lost and Found Kids tent as a place where you can meet up if they become separated from you.  
You or your child can alert a steward, peacekeeper, member of the Safeguarding Team, the Info Point, Welfare, the Kids Area and any Area Co-ordinator with a two-way radio if you and child have become separated.
Camping and Live-ins
Unloading and Packing your Car
For safety reasons we are unable to allow ticket holders' vehicles down from the car park to the camping areas to unload/pack. This doesn't apply to caravans: see the notes on Live-ins, below. Please be aware that you will have to walk with your belongings from the car park to wherever you choose to camp.
The Camping Areas
We do not offer any 'glamping' facilities, so you will need to bring your own tent or live-in vehicle with you.
We expect all camping areas to be fairly quiet at night, but please avoid camping in any of the arena fields if you're a light sleeper.  
Venues in Owl and Ring Field will be open late.  Those wishing to socialize into the early hours will be asked to go to Owl Field for this purpose. As sound travels on site we ask that people are mindful of those camping nearby at all times (see Music and Noise).
 For safety reasons these areas can't accommodate Live-in vehicles in the Long Field Camping areas. 
Live-ins
A "live-in" is defined as any vehicle in which you intend to sleep while on site. Live-in vehicles are only allowed to park in the Live in field. 
A live-in is not a people carrier, or any other medium sized vehicle you want to park near (i.e. for storage). If you buy a Live-in pass for a vehicle that's not going to be lived in, we'll refund the difference in passes and you will need to leave the vehicle in the car park.
We can't accept very large motor homes (e.g. Winnebagos), full-size coaches (neither of these will make it through all the gates) or vehicles over 7.5 tons. A proportion of the money from the car parking goes towards tree planting and environmental projects on Buddhafield land.
Vehicle will be parked by a parking steward. Please do not pitch tents next to live-in vehicles (in either the same or the next bay) - tents should be pitched in the camping field (Long Field) wherever possible. Awnings that attach to a vehicle are permitted. If you need it, please ask the Live-in vehicle marshal for assistance when you arrive.
If you bring a caravan (i.e. something towed behind a car) You'll be allowed to drive down to unhitch, but we'd like the car to come back to the car park afterwards.
Camping Area Facilities
All designated camping areas are serviced by compost toilets, sinks and taps. First Aid is open 24 Hours a day for the duration of the Festival. We have hot shower facilities (and several saunas) distributed around site. (See the site map in your programme for locations.)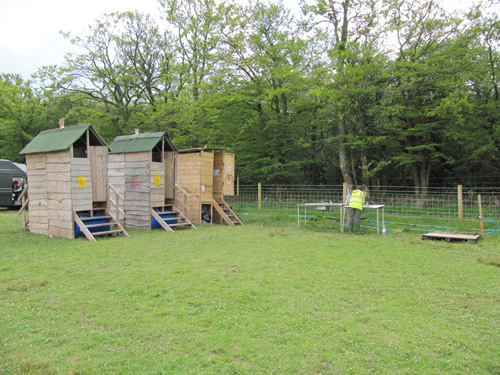 This is a block of six compost toilets (three pairs in this example).
There's at least one sink with tap water next to all toilets.
Washing and Toilet Facilities
Washing and Hygiene
Hot showers are available 8am - 1am throughout the Festival. Only eco—friendly soap, shampoo, shower gel, washing up liquid etc to be used on site, please. 
We have at least 27 compost toilets and 7 urinals distributed appropriately around site. Soap and running water is provided and at night each toilet will have lighting. Our compost toilets are dutifully maintained by a team of Toilet Wizards but if one needs attention, please tell someone at Info Point.
Waste and Recycling
Buddhafield believes strongly in protecting the environment and each year we work hard to make our events more sustainable. We are committed to leaving no physical trace of our activities wherever we gather. We clean up after ourselves and endeavor, whenever possible, to leave the place where we have been in a better state than we found it. 
 
To this end Buddhafield is striving to become a zero waste festival. We do what we can to keep on reducing our carbon footprint, save time and use the money we have to spend on waste more constructively. Please help us by being mindful and helping us to reduce our carbon footprint.
Leave No Trace takes place every stage of the event. In fact, it starts at home! 
Packing for the event
Think carefully about what to bring to the event. Bringing less means having less to haul out when you arrive, giving you back the time that would take, and adding more space for you in your tent or live-in!
Bring reusable, washable containers, nappies, cleaning and cooking items.   If you have to buy disposable items, particularly nappies, sanitary items, wet wipes, etc., ideally choose those that are compostable. The next best option is biodegradable, the third is eco-friendly. Note that all compostable items are biodegradable, but not all biodegradable products are compostable. Biodegradable products break down into a few natural elements, while compostable products leave behind a single organic material called humus. Eco-friendly items don't contain chemicals, but they still take 100 years to biodegrade!
Try to leave as much packaging at home as you can:
Choose stainless steel / aluminum refillable water bottles over plastic ones.
Store items in reusable containers that you take home with you.
Leave unnecessary food packaging and packaging and shrinkwrap from new items you may have bought for the event at home.
On site - Sort it out!
Please be mindful of your actions and pick up after yourself.   Bottle caps, apple cores and orange peels, cigarette butts, nut shells, bits of rope, sequins, glitter are all rubbish, however small. We do not have litter pickers on site.  We regard keeping the site tidy at all times during the event is everyone's responsibility.
Landfill items
Buddhafield has to pay for the disposal of the landfill it collects during the event.  This money could be used more constructively on the event.
Be aware that a lot of what ends up going to landfill after the event is because a recycling bin has been contaminated by having other things put in it which can't be removed. 
A large amount of the event's landfill is solely from disposable nappies, please consider more environmentally alternatives.
 
Take recycling seriously!
Recycle what you can and help us by putting items in the correct bins. Mixed up recycling has to be sorted out by hand by us before it will be accepted at the recycling depots.  If it is contaminated it has to go to landfill.
Please only fill the food waste IBCs with compostables or all the contents have to go to landfill.
At the toilets and urinals put sanitary waste (including nappies) into the plastic bags provided.  If the item goes into the IBCs someone has to fish it out.
If you have anything that doesn't correspond to the recycling bins bring it to the recycling tent.
Use compostable nappy liners, wet wipes and sanitary protection.
 
Before You Leave to Go Back Home
Check the ground where you were camped / parked for: 
missed tent pegs
any rubbish (even if you don't think it was yours!)
tiny bits of metal or glass, etc that could harm animals that use the site when we have left.
 and please take everything with you.
Composting
Part of our responsibility to improve the land is to compost all organic waste (mainly left over food and poo) which at the end of the process will be returned to the woodland. 
The Composting Process
The organic waste is left in the white, Intermediate Bulk Containers (IBCs) for 2 years
The IBC's are rolled every quarter
After two years heroic volunteers dig out each IBC and transfer the waste to compost bays at the event site for it to rot further.
When non-degradable rubbish is put into the IBCs at each recycling point or toilet, the contents can't then be composted. Someone has to fish out all the rubbish which then has to go to landfill, costing Buddhafield money which could have been used more constructively to improve the event.  Please help us to return organic waste to nourish the land by disposing of non-compostables in the right places.
Food and Traders
Catering
All the cafés on site sell only vegan food.
Self-catering
There will be a grocery shop on site selling extra bits to top up the supplies you bring with you. 
Shops, Fly Pitches and Campaign Stalls
There will also be a host of traders, fly pitches and not-for-profit campaign stalls.
For hygiene reasons, only authorised catering outlets are allowed to sell food or drinks at the event. This includes offering food items in exchange for goods or a donation. We strongly recommend that you avoid eating or drinking food stuffs from "fly pitches" for these reasons. We will stop any food being sold from "fly pitches" and ask that any such food is disposed of and in the place requested by us. 
Contributing: Traders
We make a distinction between a trader and a campaign stall. You're a Trader if you are primarily selling goods of any sort. You're a Campaign Stall if you're principally raising awareness of a social, ethical, political or charitable issue.
Food Traders
Trader applications will open in the spring. 
Fly pitches are NOT to sell food. Anyone selling food is regarded as a Food Trader and is to be booked in as a Food Trader so we can ensure the food is produced and stored to Food Hygiene Standards.
Other General Information
Safeguarding
Buddhafield takes Safeguarding seriously. Whilst we draw our ethical guidance from the Buddhist precepts we also recognise the importance of operating within known social protocols regarding the safety of Children and Vulnerable/At Risk Adults. 
At the Buddhafield Festival, we have a small team of safeguarders on duty around the clock. If you wish to discuss any issues relating to Safeguarding then please do email kamalanandi@buddhafield.com
You can find out more about safeguarding & Buddhafield here. 
Drones, Photography, Filming
Ticket holders consent to inclusion in official photographic, visual and audio promotion of the event. We regret that, in most cases, it would be impossible to ask personal permission to reproduce your image.
We ask that all other photographs or filming is done with sensitivity and respect of the people involved and where reasonable with their permission.  Participants in the event are expected to take photographs / videos and it is not reasonable for the Event Management Team to police such activity. 
 
Any concerns raised about the actions of a person taking photographs or filming during the event should be reported to the Head Steward or Safeguarding Team. 
Any unmanned aircraft/drone, or radio controls of any size or type, are not allowed into the venue.  If such a device, or controls for such a device, are found, the organisers reserve the right to refuse entry or confiscate the item.
Lots more information to be found in the FAQs and on the Terms & Conditions page if you want to keep learning more about our event...